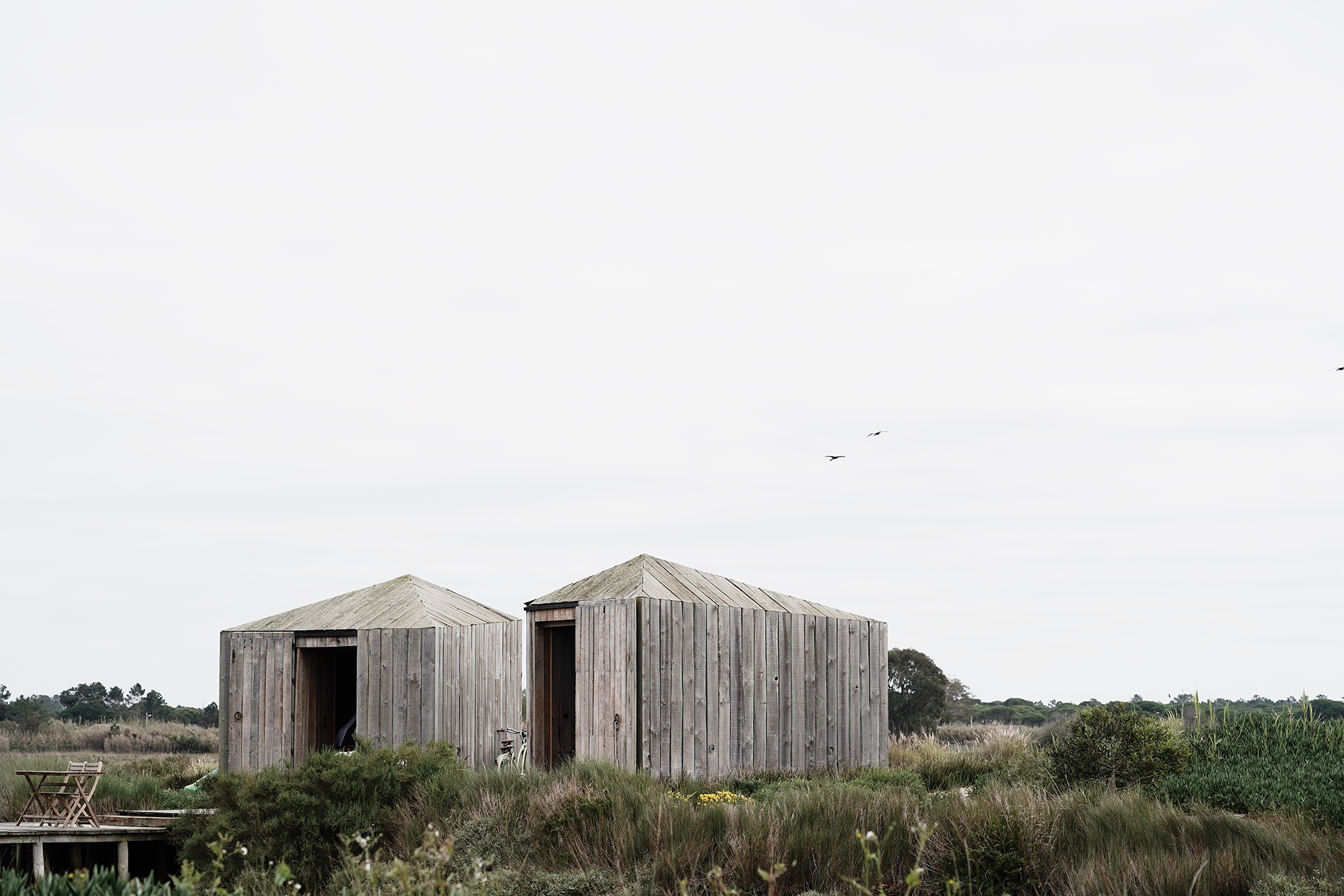 The Project
THE STORY OF CABANAS NO RIO BEGAN WITH A FAMILY OUTING, A COUPLE OF CHAIRS AND A FEW BOOKS TO READ. WE SAT BESIDE TWO OLD FISHERMEN'S HUTS FACING THE SADO RIVER. WHEN THE SUN SET, ALL WE WANTED WAS TO PRESERVE THAT UNFORGETTABLE DAY.


We invited our friend and architect, Manuel Aires Mateus to help us renovate the two fishing huts. Combining his expertise of design and craftsmanship with our desire to preserve the spirit of the place, Cabanas no Rio was thoughtfully crafted. Every element of the rebuild respected the memory and simplicity of the original structures. Whenever we return we feel that same stillness and beauty as if for the first time.
The Huts
Free from excess and superfluous objects, Cabanas no Rio feels as though you are a part of something larger. The challenges and stimulants of everyday life dissolve.

Two small huts face the Sado River. With expansive views, the walls appear to melt away and you are left living in the elements. Your rhythms become attuned to the river, the wind, the sun and stars.

In the first cabin, you can find the living area, with a modest kitchen equipped to prepare simple meals. This cabin is strategically positioned to frame the views of the surrounding landscape.

The second cabin has a cozy bedroom and ensuite bathroom. The shower has the possibility of being used both indoors and outdoors, by simply folding open the wooden doors. Though open to the elements, the cabin has been designed to feel intimate and protective.
Photos by Renée Rae, Tim Reed and Nelson Garrido.
reservations
Low-Season - January to March | November to December
2 nights minimum stay | Price: 250€/
night
(Up to 2
persons)


Mid-Season - April to May | September to October
2 nights minimum stay | P
rice: 30
0€/night
(Up to 2 persons)
High-Season - June to August
3 nights minimum stay | Price: 350€/night
(Up to 2 persons)
Notes:
- Breakfast and daily cleaning is included.

- Maximum capacity: 2 Adults



CONNECT

CABANAS NO RIO IS JUST 3 KM AWAY FROM COMPORTA BEACH AND VILLAGE.
Sítio da Carrasqueira, 7580-613, Comporta, Portugal
+351 964 362 816